Announcements, Events, and Other Sites Worth Visiting
News of Readings
On May 4th I was invited to read my poem, Remembering Ralph Edwards, at the Pomegranate Gallery in Soho. The occasion was the culmination of the Fifth Annual Raynes Poetry Competition of Jewish Currents and publication of its book of winning and finalist poems.  My poem was one of the finalists, selected from among more than 500 entries to the contest.  The anthology, called Borders and Boundaries, can be purchased here. Remembering Ralph Edwards can be read here on Verse-Virtual for June. 
If you'd like to hear my mellifluous voice on the radio, please listen to the podcast of my appearance on WBAI's Talk Back New York–Me and Thee Edition from April 19, 2017.  The conversation between me and Corey Kilgannon and Malachy McCourt begins right around the 30:00 mark in the show.  
Thanks to those of you who came out to hear Kryssa Schemmerling, Elizabeth Coleman, and me read at Cornelia Street Cafe on March 7.  Here are some photos from the event: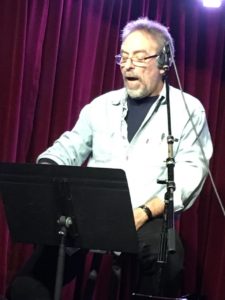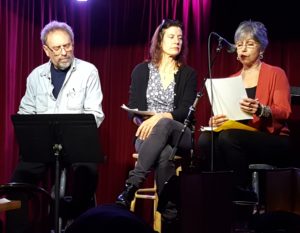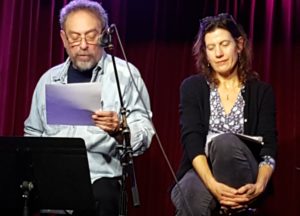 Thanks to those of you who attended Poets in Conversation on Thursday, November 3, 2016  in Norwalk, CT. The reading went well, though one of the readers–me!–was a little long-winded.  When my host, Laurel Peterson, Poet Laureate of the City of Norwalk, stopped me, I still had 20 or 30 poems to read.  Thanks to her for her fine hosting, and for managing to ask me questions that didn't make me look too foolish.  Also reading, and reading beautifully was Joseph Fasano, a fine poet and Manhattanville College colleague.
Other News
I'm pleased and proud that Moving Day, which first appeared in Autumn Sky Poetry Daily  has been nominated for a Pushcart Prize.  Thanks to editor and publisher Christine Klocek-Lim for this very surprising honor.  
Through some error in editorial judgment, my poem "In Favor of Forgetting" is one of the two winners of A3 Review's May 2017 contest.  The theme was TEACHERS.  It'll be published in their October issue of Writing Maps. (My last win was from the Sacred Heart Parish Bazaar in 1957. A harmonica.) Here's the link to A3, in case you'd like to enter one of their monthly themed contests:  https://www.writingmaps.com/collections/the-a3-review
Thanks to poet William Marr for translating my poem, Don't Get Sick in America into Mandarin and then getting it published in Taiwan in Selected Translations of Contemporary American Poetry, Li Poetry Bimonthly, Issue # 318, April 2017. Though most reading this website don't read Mandarin, here's what it looks like: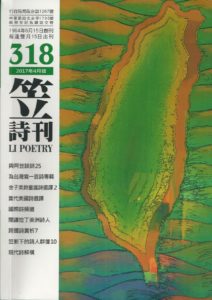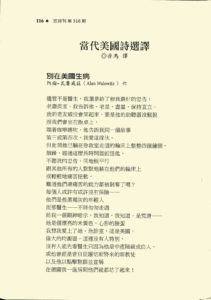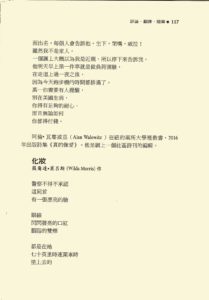 And for those of you who find Mandarin to be too much of a challenge, here's the English version of the poem from The New Verse News:  
https://newversenews.blogspot.com/2017/03/dont-get-sick-in-america.html
Other Sites Worth Visiting
Tim Savage, a fine artist, teacher, and builder of websites, who helped put together my website, is willing to share his art and his expertise with you.  You can find Tim on his own website: